Tekaurinuiotekaupapawaka Kaʻuluku Hideo Tanaka
If you ask Tekauri what his favorite color is he will tell you, "all the colors are my favorite colors." Tekauri sees the world through a unique and original lens that is beautifully and always positive.
In December of 2020, Tekauriʻs mom and dad noticed a lazy eye and took Tekauri to get glasses but that did not seem to help little Tekauri. They took Tekauri back to the doctor a few weeks later because he was now having trouble with his balance. While Tekauri was in the hospital in January of 2021, an MRI revealed a large tumor located in Tekauri's brain stem. Tekauri and his mom were immediately transported via medivac to Kapiolani Hospital on Oahu where two days later Tekauri underwent surgery to remove the cancerous tumor.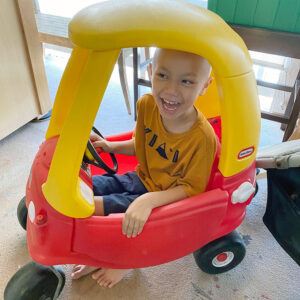 Prior to the surgery, Tekauri was entertaining all the nurses and bragging about the cool things he could make in minecraft. After the surgery, however, Tekauri was unable to talk, swallow, or move his body. Mom and dad found out the fast growing tumor was a malignant and rare type of cancer. The fast growing nature of his type of tumor made it important that Tekauri begin treatment within 4 weeks to improve his chances for survival. Therefore, Tekauri statyed in the hospital where he turned 6 years old. The nurses made a special poster for him, family and friends sent gifts. Tekauri left Kapiolani to begin his six week treatment of Proton radiation and chemotherapy in Seattle where he had to have special support to help keep his head up as he was not able to hold his own head up, walk, or move his arms.
While in Seattle, Tekauri pushed through radiation and chemotherapy. As part of his proton radiation treatment he had to wear a special mask to keep his head still. The nurses decorated the mask into Tekauriʻs favorite cartoon character. Tekauri continues to heal and he no longer needs a neck brace and he has began moving more and can now walk slowly. Three weeks into treatment in Seattle his brother, Kalaeʻula, and sister, Kamani, came up to stay with him as well as his grandparents. Tekauriʻs health and overall well being improved by having his siblings and grandparents around, he was happier and more motivated to move and do things.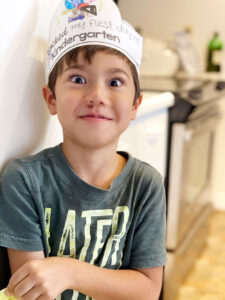 Tekauri spent a lot of time sitting next to his grandpa on the couch watching basketball games or sitting along the edge of the lake. Unfortunately, grandpa passed away unexpectedly of a heart attack while in Seattle. On April 23, 2021 Tekauri and his family returned home to Hawaii after spending eight weeks away. They stayed beyond the six weeks in order for Tekauri to receive intensive physical, speech, and occupational therapy at Seattle Childrenʻs Hospital.
Tekauri has since begun his 11 month maintenance chemotherapy plan and is receiving treatment on Oahu at Kapiolani. He continues to progress and the family is confident that one day he will be walking and talking normally on his own. Mom, Kala Baybayan Tanaka, is a community teacher of Hawaiian voyaging and navigation, she is a navigator and crew member on voyaging canoes Hokuleʻa, Hikianalia, and Moʻokiha. Dad, Daniel Tanaka, works in the Mauna Kahalawai watershed (West Maui) as a conservationist, both parents have taken leave from their work to focus on Tekauri and their family.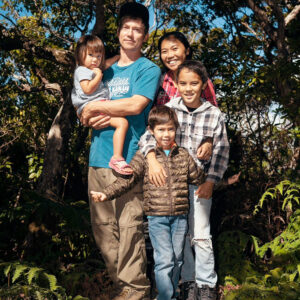 Tekauriʻs mom believes that all children battling cancer are heroes and she continues to learn so much from her own son's fight. She, along with her family and friends are inspired daily by Tekauri's strength, love and resilience. UVSC, along with the entire Maui community, stands beside them to help provide that much needed strength and hope.