Kahalau Au Hoon – a fun-loving, adorable three year old from Maui
I'm Kahalu's mom, Rachel Ray Au Hoon. Our story is one about love and family! Duke, Kahalau's dad, and I met in high school and were even prom sweethearts! Kahalau is our second child born in May, 2014 on our home island of Maui. We wanted to spend more time with our two children, Kahalau and Honi Honi, and thus decided to quit our jobs to open our own art business. We started in open air market venues but within a year I was able to get my artwork into 10 galleries and 4 restaurants and we now have a small gallery in Kahului, Maui called U'i Gallery.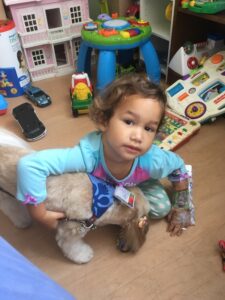 Our family was living a happy life on Maui when in June 2017 we noticed something wasn't right with Kahalau. One weekend during a family outing, Kahalau who had recently been unstable on her feet at times, couldn't even stand up. Something obviously was not right but we had no idea what it could be. Why was our perfectly rambunctious little 3 year old seemingly deteriorating before our eyes? We had taken her to the doctor several times because she was unable to maintain balance and was very fussy at times. It was labeled as ataxia and lactose intolerance.
I decided that weekend that it was time to go to the emergency room and figure out why my child was so sick, why she was walking irregularly and suffering leg pain. Cancer didn't even come to mind, we thought maybe it was vertigo or some type of infection.
A scan of her brain at Maui Memorial didn't reveal anything. Since nothing was found, we were flown to Kaiser Moanalua to get more detailed imaging of her brain. An MRI, however, found nothing. They even did a spinal tap and still found nothing, so I asked for a CT and MRI of her abdomen because she had also been complaining about her stomach a little as well. Duke and Honi Honi flew over that week for the results.
As I held Kahalau in my arms recovering from sedation and feeling awful the doctor went over the CT scan results and showed us a very large mass that covered her entire abdomen across her stomach and kidneys. We cried in disbelief but had to be transferred to Kapiolani Hospital for a biopsy. Finally after two weeks of living in the hospital, Kahalau's diagnosis was confirmed as Neuroblastoma Stage 3 High Risk. The next day she started her first round of chemotherapy on a clinical trial with frontline treatment in addition to targeted molecular medicine.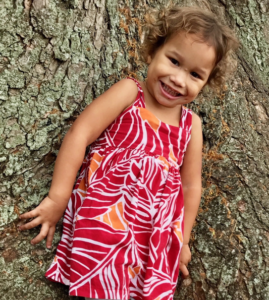 Kahalau was such a trooper every step of the way. After her first round of chemo, we were discharged and went to stay at the Ronald McDonald House. While there her count recovered and she walked more than she had in a month. She was starting to be a happy and active child again. After another round of chemotherapy, we saw more improvement in her walking and she began to eat more.
Kahalau is still undergoing chemotherapy treatment but remains active and is known to inspire other patients at the hospital. One Mom commented how her son did not want to walk for a few days and seeing Kahalau playing in the halls with her IV Pole made him walk more than he did in a while! She still has her tough days but she is so strong and pulls through even managing to display her silly personality, laughter and love of singing.
We are look forward to the day our daughter is no longer in the hospital fighting cancer and we are honored and excited to have UVSC at our side.